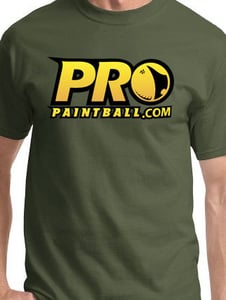 $

18.00
You need something cool to wear and what better way than to show the world your a Pro Paintball player. Best of all, 100% of the proceeds go right back into Pro Paintball!
Each time you wear your Pro Paintball tee your are guaranteed to be the focus of the party. This tee is a great way to start up a conversation and show your love for the game. Besides, every baller knows, girls LOVE pro's! So what are you waiting for?
All orders ship within 2 business days. All orders will be confirmed with delivery tracking.
For special orders, international shipping or questions on sizing please feel free to send us an email!